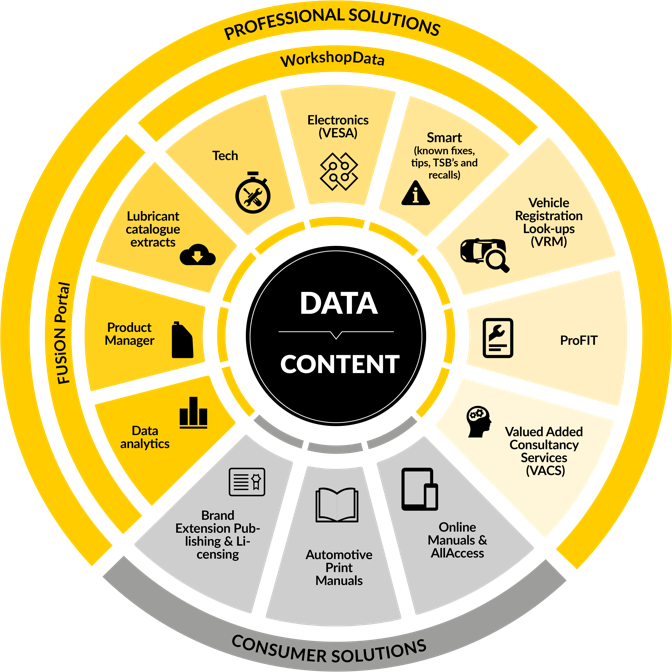 WORKSHOPDATA
HaynesPro serves the automotive aftermarket through WorkshopData which is the name of its database. WorkshopData contains a vast amount of multilingual identification, repair, diagnostic and maintenance information, for cars, light commercial vehicles and heavy trucks.
WorkshopData is built on three main modules, Tech, Electronics and Smart.
WorkshopData: Tech
The application is used by in excess of 60,000 end-users
The Tech module is the cornerstone of the WorkshopDataTM application. The module contains extensive identification, repair and maintenance information. including over 100,000 high-quality technical drawings, with featured parts for ease of identification and the option to link to a shopping cart in a parts catalogue. The Tech module also includes HaynesPro's internally created repair times database with over 330 million individual positions and overlap calculations
WorkshopData: Vehicle Electronic Smart Assistant (VESA)
The standalone VESA application is embedded in over 25,000 diagnostic tools.
Vehicle Electonic Smart Assistant (VESA) sits at the heart of HaynesPro's innovative Market Leading Electronics module. VESA can also be used as a standalone product, integrated in Diagnostic Tool Manufacturer' equipment. VESA uses scaleable Vector graphics To generates a component specific electronic diagrams which guides mechanics to a rapid, precise diagnosis of electronic system and component errors.
WorkshopData: Smart Module
Contains 4,811 recalls and 6,376 unique cases
WorkshopData's Smart module provides practical information from industry experts and renowned European helpdesks to allow technicians to quickly identify solutions to common problems which are linked with fault codes in VESA. Enabling Technicians to quickly identify and resolve common problems that are not available through the Manufacturers technical data helps improve work-flow efficiency and improve margins in their workshop. Smart also contains Original Equipment (OE) recall data and Technical Service Bulletins (TSB's).
Vehicle Registration Look-ups (VRM)
VRM servers received in excess of 192 million data requests
As a DVLA licence holder, HaynesPro UK manage a highly accurate and granular UK vehicle database. By combing the DVLA feed with data from many other key automotive industry companies to ensure we provide a 'best in class' solution. VRM is not only powering our Technical data solutions in the UK but also enables inventory management solutions, provides high-quality car identification services and enables analytics solutions using MOT and regional car parc data.
ProFIT
Instant online part fitting instructions available in 28 languages.
ProFIT allows parts manufacturers to provide online installation instructions for their components on a comprehensive range of platforms including tablets, PCs and smartphones. ProFIT also provides an alternative solution for regions where parts catalogues with fully integrated technical data sets are not widely used with clear, high-quality fitting instructions in 27 languages the ProFIT solution enables our customers to improve their returns rate on parts as well benefitting the environment from savings in the production of paper instructions.
Valued Added Consultancy Services (VACS)
Developing bespoke solutions for Major Global players
Digital and automotive technologies are rapidly evolving, constantly revealing new opportunities and challenges. HaynesPro understands that not every company's strength lies in IT management which is why it offers consultancy services and data management solutions to a number of Global automotive aftermarket companies. Our highly skilled technical team are providing solutions to major global players providing efficiencies in how they structure, link and present their data.
Online Manuals & AllAccess
The Online Manual as in excess of 60,000 subscribers.
Each online manual is based on content from the print manual. After releasing the new responsive design in 2017 and embedding over 2,000 videos covering over 4500 task-specific procedures the online manual is one of the fastest-growing solutions in the Haynes portfolio. The online manual can also be white-labelled.
Launched in 2018, Haynes AllAccess is a portal containing all the online consumer content in one portal. All Access is available globally and is targeted at the library, college, and smaller workshop markets.
Automotive Print Manuals
Over 200 million Haynes manuals have been sold globally
The eponymous Haynes Manuals continue to be based on a complete vehicle strip-down and rebuild so our instructions are inherently practical and easy to follow. The step-by-step guides contain simple-to-follow instructions complimented by photographs and highly detailed technical drawings showing component parts written by experts. Following the same Haynes process since the first Manual was written has resulted in the Group owning the unique IP of automotive content covering over 180million vehicles in the US and over 19million vehicles in the UK.
Brand Extension Publishing & Licensing
The growing list has over 400 titles branded print products
Through its brand extension publishing program, the UK has created a general publishing list of 400+ titles styled on the iconic Haynes Manual. The list contains an extensive range of practical and DIY titles covering a wide variety of subjects. Within the publishing list, the Group also owns the Bluffers Guides; the humorous pocket-sized guidebooks based on factual content, written by experts offering readers an opportunity to pass as an expert on over 30 subject areas from Brexit to fine wines.
The Group also license the Haynes Brand into a variety of global markets through third-party licensing arrangements.
FUSiON Portal
A complete suite of data tools for the lubricants industry
The OATS FUSiON Portal platform provides a suite of applications for lubricants manufacturers and blenders' technical & sales teams to efficiently deal with customer queries on products and equipment specifications, create and store new technical specifications and quote for new business based on matching their products to competitor products. The FUSiON Portal also provides statistics and the capability to track API feeds and website traffic.
FUSiON: Product Manager
Product Manager powers over 900 API feeds to 175 hosted websites, hundreds of customer hosted Lube selectors and other applications
Product Manager is both an in-house or do-it-for-me software solution for the Lubricants industry. The FUSiON Portal both automates and then enable manual matching of oil and other lubricant product specifications to many categories of vehicle components. Product Manager can also power the API feeds or hosted websites for customers enabling them to offer a Lube Selector function on their websites ensuring their customers and consumers can find the right lubricant for their vehicle.
FUSiON: Data analytics
Rapidly growing solution that has delivered £'000's of savings to our customers to date.
OATS use vehicles in production and other market data added to its equipment and lubricant specification databases to provide market and product portfolio insights for the Lubricants industry. The solutions we provide through data analytics enable our customers to optimise their product portfolio in particular territories which in turn can deliver substantial savings to their business. Our Data Analytics solutions are delivered through dashboards available our FUSiON Portal as well as custom analysis by our Data Science team.
FUSiON: Lubricant catalogue extracts
Over 160 Catalogue extracts per annum and growing!
OATS work with automotive parts catalogue standards and suppliers in North America and Europe to enable lubricant manufacturers, blenders and distributors sell their products in parts distributor and retail online catalogues by aligning car parts and lubricants to Original Equipment Manufacturers (OEM) specifications for cars and vans. This is provided as a managed service and structured to enable a catalogue extract to be performed at any time the customer requires it.